Latest News
(updated May 2.2016)
After an insanely crazed length of time,Sherlock Audio Canada now introduces the new Speakermate XP,specifically designed for Solid State (transistor) combo amp owners.
The majority of solid state(transistor)combo guitar and bassamps don't normally allow adding an additional,external speaker cabinet,since they're normally designed to run their full output signal into the single,self contained speaker.If they do,it normally disconnects the internal spkr in favour of the external spkr cabinet.In most other circumstances,the combo amp doesn't even feature an external spkr output jack at all,so either way,'you're beat". The Speakermate XP was designed to solve those problems by allowing any solid state combo amp that DOESN'T have an output jack to easily run an additional output speaker ,with or without running the combo's internal speaker,OR ,allowing the combo amp to essentially turn into an amp "head" and powering TWO external speaker cabinets if required.The new SpeakerMate XPwill now allow any typical combo amp to either power an external speaker cabinet separately, or in tandem with your combo's speaker. Now you can run your combo on top of a 4x12 as a "stack" setup. Since most combo amps are open back designs that have a tendency to "bottom out" with a lack of bass response, this feature allows your combo to kick it up a notch or two!
If your combo amp features a "hard wired" speaker(no speaker plug connector),we include simple instructions and speaker cable as well,to allow you to hook up the Speakermate XP safely and reliably .
This passive unit doesn't require any power and it's compact size allows it to be mounted securely along a side wall of any typical open back combo amp,ready to use whenever needed,and doesn't interfere with normal operation when it's not in use either !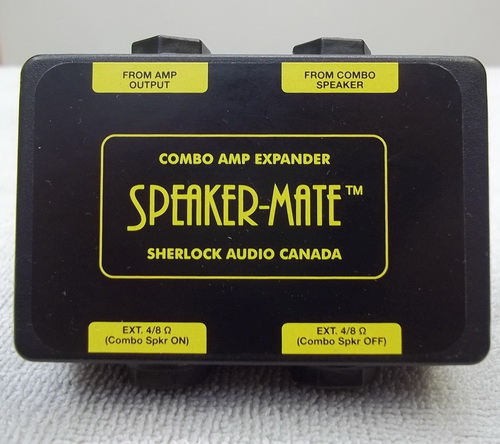 Introductory Price: $55.00cdn
=======================================================
Better late than never-SpeakerValve is finally shipping! After alengthy "gestation" period of refining & tweaking the final design-It's finally ready &r olling.........
More new products are in the process of being released.
--------------------------------------------------------------
Slow but sure-Our newly relocated woodshop is now up & running and fully operational.The first of several new products have been handbuilt in our new "in-house" facility and will be released over the course of this summer,so stay tuned to this site(and the web) for more upcoming details on these cool & innovative new products for stage & studio applications.
--------------------------------------------------------------
Welcome to the new Sherlock Audio Canada website! It's still a "work In progress" so please bear with with us as we get all the new features & content up and rolling.........
Who knew? When I introduced the initial SpeakerMate (model 4) so many years ago, that it would have spawned so many more, different models over the years. These are all still selling worldwide today, proving that there defintely was, and still is an obvious need for these unique little boxes and what they can do.
So now, the next step follows as we expand our business with the opening of our "speciallty speaker shop". We"ll be introducing several new innovative and once again, unique speaker systems for musicians. While the majority of North American brands have chosen to get their products built off-shore, in foreign lands, we continue to go against the grain, so to speak.
ALL our speaker systems & electronics are proudly designed AND hand built right here in the Seaway Valley Area, Cornwall Ontario, Canada by real live Canadians!
Canadians make good stuff!
Gilles Grignon