SpeakerValve
Live Load Attenuator

$349.00

The SpeakerValve is a live load attenuator that connects between any tube amp, up to 120watts,offering the player continuously variable control over the speaker's output level,allowing players to get their "big 'n loud" amp tone at more manageable volume levels.

The typical tube amp's harmonically rich & saturated tone,that can normally be attained at ear-splitting levels,is retained intact by the SpeakerValve attenuator.This is made variably adjustable ,right down to bedroom volume levels, if required.

The SpeakerValve's proprietary design offers the guitarist a more natural,organic sound, without imparting the dry,sterile tone associated with many attenuators.

The SpeakerValve also offers a Reducer output that can lower the amp & speaker output to approximately 75% less.

For example a 50watt amp hooked to the SpeakerValve could easily be "turned into" the equivalent of a 13watter. (read more)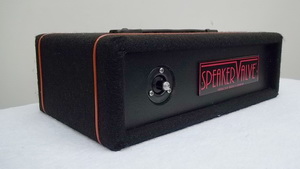 Speaker-Mate
Cash strapped & power hungry?
Speakermate allows any single output amplifier to drive up to six separate speaker cabinets, or any dual output (stereo) amplifier to drive up to eight separate speaker cabinets all while maintaining an optimum operating load to the amp. Speakermate allows you to run more cabinets than you were previously able to due to your amp's minimum allowable load, without shutting down, blowing up, distortion, or generally misbehaving. Speakermate allows you to finally obtain much needed increased sound coverage, higher spl's with less distortion AND without the additional cost of "strapping" up additional power-amps ($$$$$) with less stress on your amplifier than before. more...
Speaker Cabinets
All Sherlock Audio speaker systems & electronics are proudly designed AND hand built right here in the Seaway Valley Area,Cornwall Ontario,Canada by real live Canadians! Click on the individual series listed on the right for more details on our unique and innovative specialty speaker systems for musicians.