Speaker-Mate :: Model TWO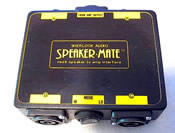 The Model 2 features 2 separate, 1/4" and 2 separate Neutrik Speakon connectors. Now, multiple combinations of speaker cabinets with either connector type and impedances can be used at the same time on one mono output amplifier.
Model Two came about after numerous requests from bassists,PA & DJ operators alike.They wanted to able to use different combinations of lower powered speaker cabinets that were equipped with traditional ¼" jacks,along with higher powered cabinets,most of which were solely equipped with Neutrik Speakon connectors.They needed to be able to do this without having to retrofit connectors into all their cabs,jack panels or jimmy up all sorts of odd cables & adaptors to run back to their poweramps as well.
Housed in the same size enclosure as the Model 5,this new model features a mono Speakon amp input,as well as dual ¼" and dual Speakon cabinet feeds. Besides performing many of the same functions as a Model 4 and Model 5,we've also added a clever "imp-switching"mode function (user switchable) that offers players more hookup combinations with the use of mixed or matched connectors that can be easily configured into series or parallel pairs and quad setups.
Maximum power handling rating is 1000watt rms down to 4ohms at the output.
$115.99cdn
Diagrams
Coming Soon!